Meybo knows the BMX world like no other. Once started as a shared passion between father and the son, the company has now grown to be an international distributor of BMX frames and bikes. In 2013, Meybo even became the official partner of the national Dutch BMX team, and many successes followed. Multiple world titles have in the meantime been collected on Meybo BMX bikes, and even a gold medal in 2021 at the Tokyo Olympic Games by Niek Kimmann. And all of that with the frames designed by Meybo, produced by We R Asia in China.
"Our trophy collection keeps growing because of the frames that we produce together with We R Asia, and we are proud of that."
High-end and high-quality products
As one of our first customers, We R Asia grew together with Meybo in Asia, and with this also our knowledge about BMX frames grew. Sander Bisseling, co-founder of Meybo, says: "before the collaboration with We R Asia, we produced our frames in the Netherlands, and later parts of our production in Asia and Belgium. Jasper really thinks together with us about our products, so we can innovate together." Meybo experienced difficulties with producing in Asia by themselves, because of the large number of intermediaries. Working together makes this process more transparant: "The project managers at We R Asia filter our possible mistakes in the production process, before we receive any samples. Our products must have a high quality, and therefore we are very happy with a partner like We R Asia as our local quality controller. Especially the products that we design ourselves require a lot of attention, and We R Asia is always on top of design and execution with their own teams in Asia."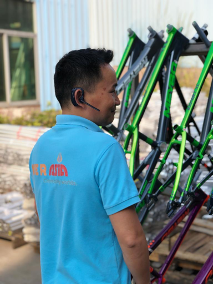 We R Asia en Meybo: samen fietsen naar nog meer BMX successen
"As official partner of the national BMX selection in the Netherlands, it is important that we can really focus on the goal of our frames: make the riders perform in the best way possible. We therefore proudly show our customers the quality and sustainability that We R Asia represents. Our trophy collection keeps growing, and we are very proud of this." With offices in China, Vietnam and India, We R Asia is on top of any important developments in Asia, which allows Meybo to keep innovating: "parties that deliver from a catalogue do not usually support in developing your products further. And just that is what makes We R Asia so unique."